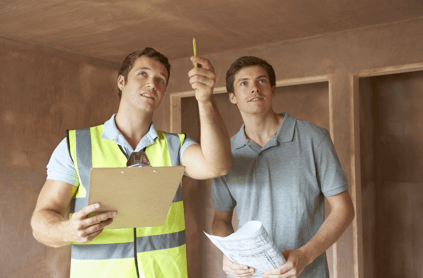 Obtaining a home inspection is a very important investment that will give you the confidence to make the best decisions whether you are selling or buying a home. If you are buying a home, this can be your largest single investment you will ever make. As private mortgage investors, we recommend you learn as much as possible about the newly constructed home or existing home before you purchase. If you are already a homeowner, a home inspection will give you the opportunity to identify problems and suggest preventative measures to help avoid costly repairs in the future. Below we will explore the most common FAQ's regarding home inspections.
What is a home inspection?
A specially trained home inspector will make a non-invasive examination of the physical structure and systems of a house from the roof to the foundation.
When do I need to order a home inspection?
Usually you should contact a certified inspector immediately after the purchase money contract is signed. You should make sure that before signing the contract, a special clause is in place that allows time for you to inspect the property and specifies the terms and conditions for both buyer and seller.
Should new homes be inspected?
Absolutely. A home inspection from an impartial-third party opinion by a professional in the field of home inspections will help you identify builder oversights or deficiencies that the builder may not see or neglect to repair.
What is the cost of a Home Inspection?
Fees vary geographically for a typical single family residence and a number of factors such as the size of the home, the age and optional services like septic, termite or radon testing. The inspection fee is typically paid by the potential homebuyer so feel free to shop around and talk to several inspectors before ordering one. Do not let the cost be a factor in deciding which inspector to use, remember the knowledge and sense of security gained is well worth the cost. Sometimes the lowest cost is not necessarily a bargain. We, mortgage investors, encourage you to take into consideration the inspector's experience, qualifications and training and compliance with state regulators.
What does a Home Inspection include?
A home Inspection from a Texas Certified inspector may include the homes' central air, plumbing, electrical systems, roofing covering, attic, electrical systems, crawl spaces, structural components , visual insulation; walls ceilings, floors and windows. You can also get a termite inspection at an additional cost. Your report will be 20-30 pages and reports are usually ready within 24 hours.
Are Home inspections mandatory?
Home inspections are optional for sellers, whereas buyers may be required to obtain one to secure a mortgage. As a mortgage investors corporation, we suggest that if you are planning to sell the home, you consider a home inspection as it can give you the opportunity to make necessary repairs that will help you sell the home quicker. If you are buying and wish to avoid becoming involved in future costly repairs, a home inspection will help you identify the need for maintenance to keep it in good shape and identify problems ahead of time.
In conclusion, no home is perfect and the potential problems that come up during inspections are only for you to know in advance what to expect. The seller of the home is not automatically required to make repairs that the inspection finds, but as the buyer you can negotiate the repairs to be made before you purchase the property. If the seller is unwilling to repair you can terminate the contract during the contingency period. After your inspection, you will now be able to complete the purchase with confidence; you will minimize unpleasant surprises and unexpected repairs so learning as much as possible is a smart move. No home can "fail" a home inspection, as the examination is of the current condition of the property and this is not an appraisal of the home. So remember an inspector will not pass or fail a home, they will identify what components and systems are in need of major repair or replacement and describe the physical condition of the property.
AMI Lenders, Private Mortgage Investors in Houston, takes pride in providing alternate sources of financing for all types of properties in residential and commercial fields. Our licensed loan originators have over sixty years combined experience providing better service and better hard money lending rates in Houston and surrounding cities. We are Houston's Private Mortgage Investors who funds most of our loans and responds quickly to hard money loans for bad credit usually within 24 hours.
Give us a call at 713-682-4400 or click here to view our lending terms or apply online for a Hard Money Loan that fits your needs in Houston.