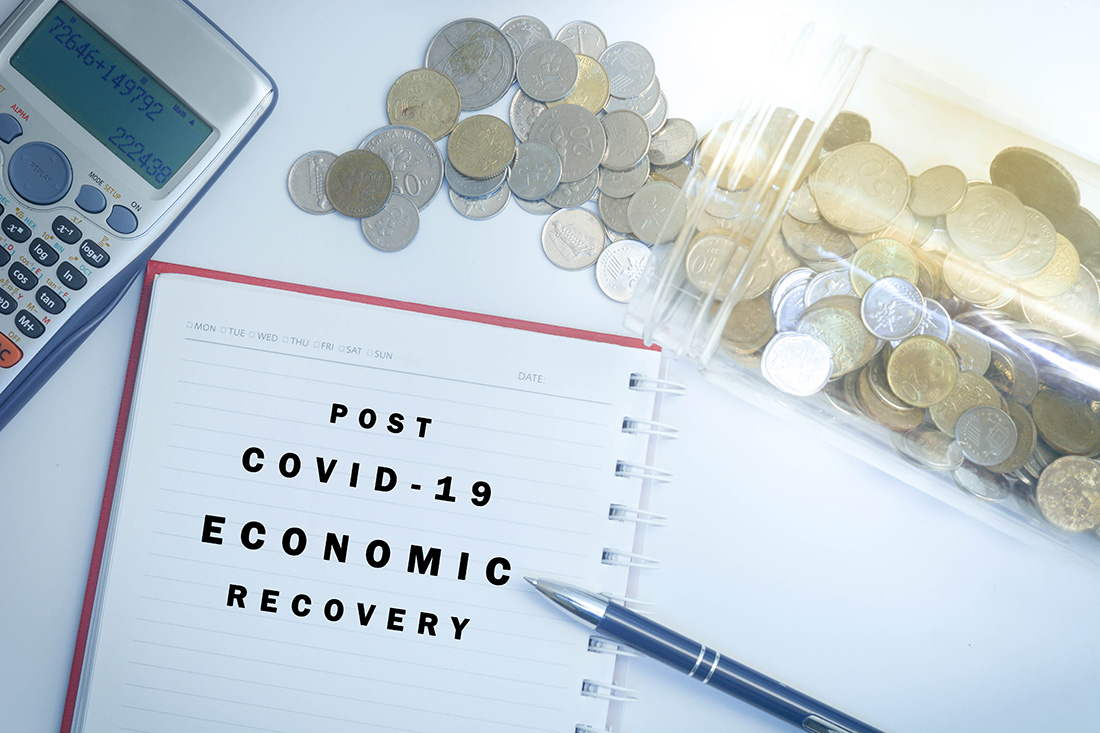 Our good friends at Moody Rambin recently posted a concise and exciting set of regional economic data entitled "Houston's Economy at a Glance."[1]. Reading their blog set us thinking about letting our faithful readers know what the near-future economy might look like in the Houston area. So without any further delays, we present some interesting information that might help you in your future business and real estate investment plans (we reproduce some information we borrowed from the cited article).
What does the post-pandemic recovery look like in Houston?
Overall, we can say that Houston's economic recovery is characterized by simultaneous good and bad news. We could argue it's still early to talk about a full recovery on all fronts. Some economic sectors are marching strongly ahead (housing, for example) while others are still laggards (oil and gas, or small businesses' activity, for example). Overall, the outlook remains positive (with some if's), as was recently published by the Federal Reserve Bank of Dallas.
"There are signs that Houston's third wave of COVID-19 infections that began in late July was depressing local economic activity by the end of August, albeit modestly. Payroll growth in July accelerated as Houston's recovery continued. On the negative side, surveys of business input prices continued to log near-record rises in price pressures. Overall, the outlook remains positive, but near-term risks from COVID-19 are rapidly rising."[1]
Compared to how other 49 large cities in the U.S. are faring, a recent article by CultureMap Houston concludes that we can say that Houston is doing "so-so."[3]. Based on findings by the financial experts at the SmartAsset website, Houston performed slightly better than the nationwide average. However, our city did not rank in the top 20.
The Houston statistics for the period January 2020 to April 2021, according to CultureMap, are presented in the following table. We cheerfully note that Houston is above average in three of the five statistics analyzed by SmartAsset.
| | | |
| --- | --- | --- |
| Statistic | Houston | Average in 49 large US cities |
| Change in consumer spending | 11.7% | 7.3% |
| Change in small businesses open | 34.5% | 32.5% |
| Change in small business revenue | 36.6% | 30.9% |
| March 2021 unemployment rate | 10.6% | 6.6% |
| Percentage change in job postings | No data available in CultureMap | No data available in CultureMap |
Regarding employment levels in Houston, the Federal Reserve Bank of Dallas reports:
In the period April 2020 to July 2021, approximately 210,800 jobs were added to the Houston economy.

Our city has recovered over 57 percent of the total payroll jobs lost during the initial phase of the pandemic.
What did our friends at Moody Rambin publish that piqued our interest?
M.R. summarized an extensive report by The Greater Houston Partnership (an economic development organization in Houston). A selection of their key takeaways[4], which are not good news locally but hopefully point to a recovery, include:
We will most likely see a full recovery in employment [5] early in 2023. About 15 to 18 months from today.
The construction industry in the Houston area will struggle in the near future.[6].
As regards West Texas Intermediate crude (WTI), its price has been above $52 per barrel for all of 2021. This means it has traded at a price at which most American oil companies can profitably drill a well.[7]. So our economy can start to see some activity in the oil extraction industry.
Does Houston have any good economic news?
Yes, there are. According to MR:
More likely than not, the Port of Houston will set a record this year as regards container traffic.

Sales of homes in the Houston area will continue to grow at aggressive rates.

Houston is setting a record in multifamily absorption. From July 2020 to July 2021, tenants have leased 30,584 units: more than double Houston's average level of absorption.




Complementing the above, the Bauer College of Business at the University of Houston says that "everything related to Houston single-family housing is booming."[8]
| | |
| --- | --- |
| Statistic | Houston |
| Housing Sales | 6.2% above pre-pandemic levels |
| Home Inventory | 1.6 months in July 2021 down from 3.5 months in February 2021 |
| Jump at median single-family price | 19.8% |
| Median-priced home in Houston | Above $300k threshold |
Finally, another great news is that the Texas housing market is hot, including purchases by international buyers. The Texas International Homebuyers Report for 2021, recently released by Texas Realtors, shows that our state was once again the No. 3 U.S. market for international buyers, despite a pandemic-fueled slowdown of the segment.
Conclusion
Keep up the good spirits; not all is bleak in our lovely city!
AMI Lenders in Texas, Houston want to evaluate real estate loans focused on revamping, remodeling, or building light industrial space and multifamily units (including data centers). We can also assist you in your mortgage needs, whether you are a local resident or a foreign buyer (some restrictions apply).
AMI Lenders is one of Houston's fastest closers. We fund our loans and can close as fast as the law allows. Borrowers in Houston will also have difficulty finding lower rates for hard money or private loans than those offered by AMI Lenders. We want our customers to succeed, to take advantage of the financial opportunities provided by real estate investment, and we want them to finance/fund their projects through us.
Contact AMI Lenders now if you are interested in getting a loan for commercial real estate.
Visit our website today and fill out an application for a private hard money loan in Houston.
For over 30 years, AMI Lenders have been providing financing options to individuals in the Houston area. If we aren't able to assist you, we'll be happy to direct you to someone who can.
Contact us for any questions or apply online!
[1] https://www.moodyrambin.com/houston-economy-at-a-glance/
[2] https://www.dallasfed.org/research/indicators/hou/2021/hou2109.aspx
[3]https://houston.culturemap.com/news/city-life/08-04-21-houston-rankings-pandemic-economic-study-smartasset/
[4] https://www.moodyrambin.com/houston-economy-at-a-glance/
[5] Houston should add 40,000 to 60,000 jobs through the remainder of 2021. That suggests a net gain of 80,000 to 100,000 jobs for the year, which would be one of the better years on record. It would still leave the region 90,000 to 110,000 jobs below pre-pandemic employment levels
[6] Contracts for nonresidential projects are down 33.8% compared to August 2020. Contracts for nonbuilding projects (i.e., roads, bridges, water treatment plants) are up 26.0 percent from a smaller base.
[7] WTI has traded above $60 since May 2021
[8]https://www.bauer.uh.edu/centers/irf/houston-updates.php#:~:text=In%202022%2C%2032%2C000%20social%2Ddistancing,recovery%20in%202022%20as%20well.&text=The%20economy%20then%20slowly%20settles,around%2060%2C000%20jobs%20or%201.7%25.