Many believe that getting a contruction loan is a difficult process. In some cases, this assumption is correct; however, with the right tools and information, getting approved for a construction loan is possible. Often times it's a matter of finding the right loan from the right lender. Hard money lenders have become prime candidates for construction financing. Even though they offer higher interest rates, the actual difference in cost is usually not detrimental to the project since they are usually be held for short periods of time; for this reason it's imperative to have a clear exit strategy before considering a construction loan.
Construction loans are currently in large demand due to the latest statistics of the growth in new home and commercial real estate sales. Real Estate sales have been rising reaching the highest levels in recent history. This has resulted in a reduction in inventory that has made this a seller's market. What do you need to know when applying for construction loans to take advantage of this market?
The following 5 tips should help you in securing financing for a construction project: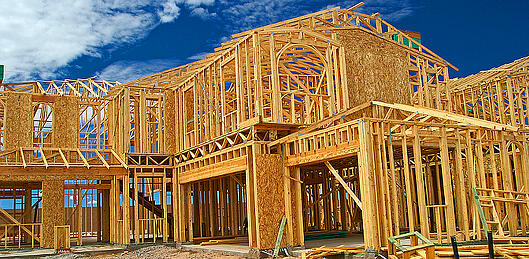 1. Loan size and affordability. It's important to determine what the monthly financial commitment on a construction loan will be before moving forward with the land purchase or loan request. The cost of the loan will depend on the rate and loan size. The rate will in turn fluctuate based on the borrower's credit score, size of down payment, if the land is owned free and clear, the borrower's (builder's ) experience and ability to absorb potential cost overruns (common in construction projects).
2. Evaluate different financing options. With construction it's common to get short term 12-24 month construction loan that allows enough time to complete the construction and market the property. These loans usually require monthly interest only payments. If your building a home for sale, this is a good option, however, if you plan on keeping the property you will need to permanent financing to pay off the construction loan. This results in additional costs for the closing of the permanent loan. Some lenders offer a 'one time close' with a loan that starts as a construction loan and then turns in to a regular mortgage after a set time frame. This can be a good option when building a home one is looking to hold on to either as an investment or for one's personal use. Many lenders will require the land to be free and clear before they will consider a construction loan.
3. Interest-carry or interest reserve is an amount that some lenders would add to the loan amount to cover monthly interest payments for a period of time (or the life of the loan in some cases). These funds would be advanced monthly and added to the loan balance like a construction draw. These allows the borrower to concentrate on the project and not have to be concerned with the monthly payment obligation; it also makes it more secure for the lender as they know they will be receiving their monthly payments.
4. Contingency funds or cost overruns should be added to the budget and loan amount. It is not uncommon for construction to run over budget. For this reason some lenders like to have an additional 10-15% allocated to overruns added to the total budget and loan amount to make sure they can cover unexpected issues. If these funds are not used, often times the borrower does not have to pay interest on them unless they are advanced. Even if the lender has set aside a contingency for the budget, the borrower should also be prepared to spend a little more than planned. Construction budgets tend to run over and it is very difficult to secure funds with construction started.
5. If you are hiring a contractor to oversee the construction this is the most important part of the equation. You should verify their abilities by seeing construction they have recently completed, speak to clients they have done work for, and request at least one bank reference.
It's important to also understand that most construction loans will advance funds only after the work at the site is completed, therefore the borrower must have the money to carry the expenses until the bank reimburses, or work with subcontractors that can wait until the bank pays. Furthermore, many lenders hold back a 10% contingency from all advances until completion.