Fix and Flip with local partners!
"Fixing and flipping" is a globally practiced investment strategy where real estate investors purchase a property at a discounted rate (most times heavily discounted), renovate or rehabilitate it, and then sell it at a profit. However, before fixing and flipping, it is essential to understand its economics and whether the current market will prove fertile ground for profit.
As a norm, when housing inventory is low, individuals have fewer options to choose from. Since the number of new homes being built does not generally satisfy the demand, the demand for flipped homes increases. The demand level for all types of houses in any economy will heavily depend on the population's demographics; in a market like ours with a more significant number of individuals aged 25-40 who want to purchase their first home, demand has increased. These young groups mostly look for budget-friendly options and search for such rehabilitated spaces instead of a more expensive, build-to-suit house. Another aspect on which the likelihood of the fix and flip market is dependent is house prices; the higher they are, the better return on investment an investor is likely to get.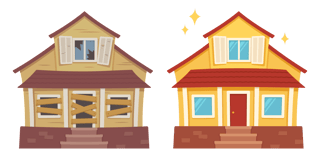 The costs involved in this investment strategy include what is required to initially procure the property, the price of all repairs, carrying costs during the remodeling, insurance, and taxes, among other costs. Still, preeminently, after all, repairs, the property's market value is of interest to a fix and flip investor. This is the after-repair value (ARV). Comparing rates of similar properties in the vicinity may prove beneficial to determine the best price for purchasing (or selling) a specific house.
To determine the appraised value of a particular property, find out information on comparable properties and the cost for which they have recently been sold off. The difference between the ARV and the all-in fix and the flip costs is the potential profit (sometimes known as "the margin").
As an investor, your principal approach should be to minimize any financial risk and aim for maximum return. To ensure this, you must not pay more than what a house with all the fixing and carrying costs included is worth; before any transaction, calculate what the needful renovations will cost. With these numbers, you can determine a final purchase price. According to a rule of thumb, one must not pay more than 70% of the ARV for the property minus the budgeted repairs. Therefore, an investor needs to calculate a detailed budget, including the price of necessary raw materials and labor.
Another cost often ignored is the opportunity cost of the labor and effort behind the fixing, so if you are doing the repairs yourself, do factor in your salary. It is essential to understand that "fixing and flipping" is a time-consuming project that requires plenty of sweat equity.
A Gantt chart may help organize each task and ensure their execution within a specific time frame. Strictly following this chart will maintain an organized approach.
There are some key questions to keep in mind when searching for a location where you wish to purchase your property.
- Are the property values increasing in the vicinity?
- Are the comparable houses in the area selling?
- Are there any other residential owners nearby investing in renovation?
- Is there a low crime rate in this location?
- Is there a commercial and school area nearby?
Such questions will help determine whether the location in consideration will prove profitable for your fix and flip project.
Unlike the buy and hold strategy, time is crucial in the "fix and flip" case. The saying "time is money" best describes the scenario. The goal of an investor should be to sell the property post-repair as quickly as possible. Delays in either the fixing process or the time it takes to sell the property will increase the investor's costs, such as maintenance, property taxes, utilities, and insurance.
Due to the time constraint flippers are on, they require fast cash; hence private lenders with hard money loans are those most attractive to them. Essentially hard money loans are used for real estate transactions with terms of less than a year. Hard money lenders base the amount they loan on the home's ARV.
There are many hard money lenders in the Houston area. However, AMI Lenders provide the best rates for hard money in Houston and close as fast as the law allows. If you are located in Texas, AMI is a firm that provides loans for fixing and flipping a property and provides guidance regarding the process.
Contact Us for a Fix and Flip Loan Today!
AMI Lenders Houston's Premiere
Fix and Flip Lenders
Usually, once you find a property that you want to fix and flip, time is money. It would be best if you moved fast to obtain financing through a hard money lender, get your fix and fix property repaired, and sell it as quickly as possible.
Proper budget management and keeping your Fix & Flip repairs budget under $50k will help you make the most profit by helping you avoid overruns and by securing the lowest Hard Money Loan interest rates in Houston. Remember, once you find a property that you want to fix and flip, time is money. You'll need to move fast to obtain financing and secure the coveted property.
To make the optimum repair budget for a fix and flip investment, consider the following:
- Study the real estate market to see what features buyers want in their new house
- Concentrate on the exterior repair costs first because the first impression is often the last
- Research material and labor costs thoroughly before settling on a budget.
- Keep some extra space for miscellaneous expenses that might unexpectedly show up.
- All in all, ideally, your repair budget should not exceed $50k for the highest chances of getting a hard money loan in Houston with the lowest available interest rate.
We recommend that you use a spreadsheet to keep track of all your repair expenses. Here is an example of a spreadsheet that analyzes every aspect of house flipping. It will help you develop an optimum purchase and selling price and estimate all your repair expenses. You'll find two tabs, the rehab analyzer, and the repair estimator, when you open the spreadsheet. In the repair estimator, you can break down your expenses by the work scope or the rooms where the work is done. Each particular repair work element can be analyzed separately; they include the general description of the work, the number of items needed, material costs, labor costs, and DIY savings. Find more templates for tracking real estate budgets and expenses here.
Having the perfect repair budget can significantly enhance your chances of obtaining a hard money loan instantly. Yes, that's right, private lenders for fix and flip financing do ask for your repair budget before they decide if you're eligible for the loan. In Houston, for example, if it does not exceed $50k, you have a chance of getting a better interest rate. In most cases, it is best to follow the 70% rule, i.e., the total spending on the house (purchase cost and repairs) must not exceed 70% of the after-repair price of the house.
How to Fix and Flip to Make a Profit
As Fix and Flip investments gain popularity, Hard Money Lenders in Houston can help experienced Fix and Flippers make a substantial profit. In the past four years, investors' average gross flipping profit has been between $60,000 and $70,000.
Experienced investors have a good idea about how to make lucrative investments in fix and flip investments. However, not everyone knows how to make a rewarding deal because numerous new real estate investors do not know it accurately.
Often, potential fix and flip investors make one or more of the following mistakes:
Mistake No. 1 – Not Doing Proper Research of the Market
Mistake No. 2 – Not Structuring Your Budget
Mistake No. 3 – Forgetting to Get Property Insurance
Mistake No. 4 – Making Unnecessary Renovations
Mistake No. 5 – Not Screening the Contractors Properly
Mistake No. 6 – Not Having Enough Time
Fix and flip real estate investments can be highly lucrative if done right. You must avoid making any of these six mistakes when planning to invest in a fix and flip property.
Fix and Flip Priorities
Properties that can be fixed and flipped are hard to find. When you do find one, you may wonder where to start. Should the priority be bringing the electrical and plumbing system up to code, if needed? Or should it be making the kitchen as nice and modern as possible? What should come next, the bathroom or the roof?
Because AMI Lenders cares about our clients and their investments, we want to help you make one of the most critical decisions a Fix and Flip investor needs to make: What to repair first on a fix and flip property. Prioritizing the repairs according to a limited budget can be tricky, especially when you want to make the most profit from your investment and sell the property as quickly as possible.
The experienced team of lenders at AMI Lenders recommends prioritizing these items or repairs over any other to make the most out of your fix and flip investment:
1) Structure First, Cosmetics Second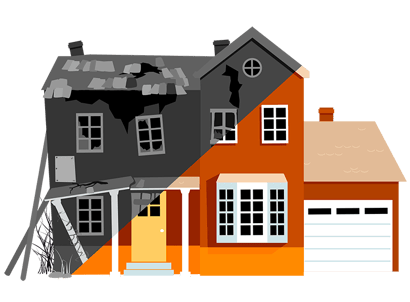 2) An Attractive Exterior
3) Fresh Paint
4) Update the Kitchen

5) Clean Bathrooms
6) Add Special Feature (if budget permits)
Hard Money Lenders' Blog
Find out what else AMI Lenders has to say about Real Estate Investing.